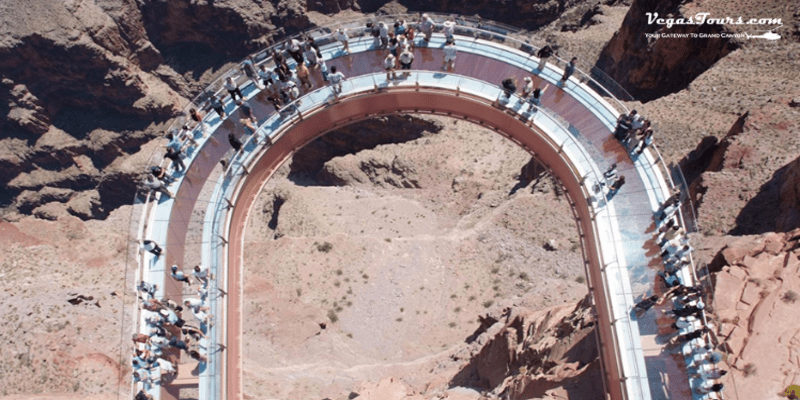 How to Make Your Journey to Grand Canyon Skywalk Tours Exciting and Memorable?
The Grand Canyon, Arizona's well-kept natural attraction, welcomes tourists from all around the world that find solace in its beauty and majestic look. Given its popularity, the canyon has been modified with several add-ons to ensure that the tourists get the best out of their visit to the Grand Canyon.
One such amazing addition is the Grand Canyon Skywalk. However, what makes the tour amazing is a great ride that takes you to your destination. If you are a part of a group or out on a trip with your family, hiring a mini-coach for the excursion would be an ideal decision.
But, before we get a quick look into the benefits that you get from hiring a team for an adventure journey to the skywalk, let us peek into what this skywalk actually is.
Grand Canyon Skywalk: What is it?
If you have plans to indulge in Grand Canyon Skywalk Tours, it is an amazing spot that will give you a whole new perspective on the beauty of the Grand Canyon. This horseshoe-shaped bridge made of glass is 10-foot wide and extends about 70 feet. As you look down, you can see 4000 feet down to the canyon's floor.
Now, let's get to the part where you have the time of your life as you take off from your hotel room all the way to the booking station of the Grand Canyon Skywalk.
How to have a fun time during your ride to the Grand Canyon Skywalk?
First things first, before you get to your destination, you need to book a reliable service provider that takes you to the West Rim while making the ride fun-filled as well as informative. This can be done with the help of Vegas Tours, a well-known service provider that provides a full-day tour with an expert guide on board to make your journey cherish-worthy.
1-Budget-Friendly Ride:
One thing that makes your trip interesting is knowing the fact that you are saving a good amount on your bookings. With Vegas Tours, you can have a pocket-friendly ride from your hotel to the West Rim and then back to the hotel with no hidden charges.
With a fun-trip on your mind, you wouldn't want to deal with the hassles of paying unwanted charges that you didn't sign up for in the first place. Additionally, Vegas Tours charges you only for the packages you select and nothing extra. All that you sign up for is laid down straight for you before the journey starts.
2-PhotoStops at the Hoover Dam:
On your way to the West Rim, where the Skywalk is located, you also get to stop and take some amazing pictures that will make a part of your memory for years to come. You get to capture the highest dam in the United States, created in the form of a concrete arch.
Apart from that, you can also click some amazing pictures of the artificial lake that is popular for generating hydroelectric power, provide water for domestic use, as well as serve as a source for agricultural irrigation. This popular sightseeing destination is surely a part of your journey that takes you to the start of the Grand Canyon Skywalk tours.
3-Enjoy a Scenic View of the Grand Canyon West:
When planning your trip to the Grand Canyon Skywalk with Vegas Tours, you get a chance to enjoy a guided tour of the scenic view that comes along the way. Some of the popular viewpoints that you get to enjoy include places such as the Eagle Point, Guano Point, as well as the Hualapai Ranch.
Explore the majestic sunsets and make your day all the more exciting before you get back to Sin City.
4-Experienced Guides Onboard:
When out on a trip, you would always want to save up as much money as you can. Now, it makes no sense that you pay for a bus and then book a guide separately to help you know about the places you are being driven via to the Grand Canyon West Rim.
However, with Vegas Tours, you would have no such complaints. You get both a guide as well as a comfortable ride as you venture with your group to this amazing place. Unlike the South Rim, the West Rim is closer to Sin City and doesn't tire you out in the journey.
So, enjoy the creative story-telling by the guides that ensure you have a fun time with your peers on your way to the West Rim.
5-Experience the Hualapai Culture:
The Hualapai tribe is a unique part of the rich history represented by the Grand Canyon and adjacent areas. On your trip to the Grand Canyon West Rim, you get to experience firsthand the rich culture of the Hualapai tribe. The people there still speak their ancestor's language and follow all the practices such as cattle ranching, Indian ceremonies, as well as basket weaving.
When you stop at this place, you will find the local women dressed and decked in colorful dresses made of silk along with some beaded capes while dancing to the rattles on their hand.
6-Drive-thru the Beautiful Joshua Tree Forest:
Filled with the pine-like leaves of the age-old Joshua tree, this forest is another spectacle that you should definitely be a part of. If you love to see some greens on your way to the Colorado River-based Grand Canyon, this drive-thru is something you should definitely look forward to.
If you happen to visit the Grand Canyon in the flowering season of the Joshua tree, you will get to see some beautiful blossoms that start as small greenish clustered buds on the end part of each branch and eventually turn into waxy & white-colored flowers that are known to emit a beautiful sweet fragrance that will remind you of the coconut fruit.
So, as you pass by this forest, do not forget to look for these flowers from your bus window, and if you are close enough, you can surely enjoy its smell.
7-Enjoy an Amazing Lunch at Hualapai or Guano Point:
On your way to enjoying the Grand Canyon Skywalk tours, you will definitely feel the hunger from all that excitement. So, what would you do? Well, nothing as such! With Vegas Tours, you get to enjoy a great lunch with your friends and family at the local restaurants of the Hualapai Ranch or the Guana Point.
8-Easy Cancellation Policy:
The best thing about booking your trip to the Grand Canyon West Rim with Vegas Tours is the fact that you get access to an easy cancellation opportunity. Due to unforeseen circumstances, it is possible for a trip plan to fall down. You obviously wouldn't want your hard-earned money to go down the drain.
With Vegas Tours, you can be ensured of easy and free 48 hours cancellation policies.
Conclusion
So, plan your trip with ease and enjoy the Grandeur of the Grand Canyon without missing an insider's insight. Experience a whole new rush of information about the history of this amazing place while learning more about the Indian tribe at Hualapai. With Vegas Tours, your journey would surely be one to cherish for a long time.
Are you looking forward to having the perfect trip to the Grand Canyon West Rim? Well, with Vegas Tours, you get access to pocket-friendly packages that pick you and your group straight from your hotel all the way to the West Rim. Book your trip right away and be worry-free upon your arrival. To know more about our services, call us at 1-866-218-6877. You can also mail us at info@vegastours.com.