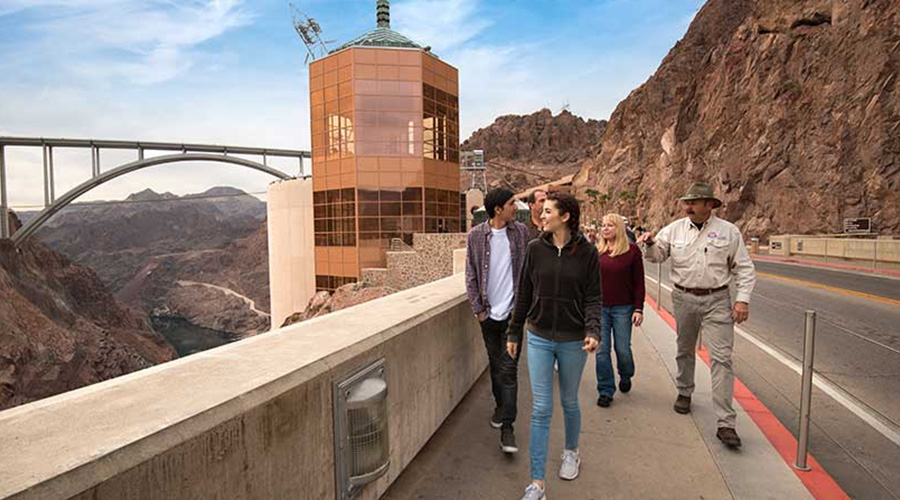 Here's all you need to know while planning a trip to the Hoover Dam!
Hoover Dam stands 725-foot high from the ground and draws tourists from every corner of the world. Natural structures have been used cleverly to narrow the dam and increase pressure. Hoover Dam is responsible for the generation of around 4 trillion watts per hour. Isn't it interesting? We guess you've already heard about all the great things and scenic views of this place. So, now let's come to the part where we recommend one of the best touring brokers to ensure your trip remains full of comfort as well as fun. Get to experience the best hoover dam tour by booking your next tour with Vegastours.com
Services you get at Vegas Tours
If you book a day with this agency, you get a tour of 4.5 hours, which also sometimes depends upon the package you've chosen. You'll be provided with a half-day hoover dam tour, including a helicopter tour scheduled for people who have a tight schedule. If you've got very little time, and you wish to absorb the absolute beauty of the Hoover dam, then this package is for you.
You can get access to their services always, no matter what day it is. The best part is, everything is transparent here, and there are no hidden charges. You get all the details for which you are being charged. Who wouldn't just love to enjoy a 10-minute adventurous helicopter ride over Lake Mead and the Hoover Dam? This allows you to get a glimpse of the whole place within a limited time frame.
What's the point of coming to Vegas when you couldn't take a picture in front of the 'Welcome to Las Vegas' sign? Well, don't worry, a photo stop will be provided to the clients. Once you reach the destination, the tourists will get a VIP tour guided by the government. While you're on your best hoover dam tour, you'll come across some famous monuments, visitors center, gift shop, and museum.
If you book a package from the Vegas tours, you need not worry about anything further. You'll be picked up and dropped off safely at the hotel. You'll be escorted by fully informed, courteous, experienced, and friendly guides who will provide all the necessary information about the essential places that you'll come across. Since the spectacular views are to die for, you wouldn't want to capture them and cherish them forever. You'll have enough time to take as many pictures as you want.
How will your day begin?
Your day will be picked up from your Las Vegas hotel before leaving for the Dam tour. Experience the fantastic work done by the humans and the most successful project of government back then. While you enjoy the ride, your driver-cum-guide will fill you in about the place. To make sure you don't miss anything, you'd be provided with a large vista window which allows you to soak in the beauty of nature and take pictures as well.
The helicopter tour covers Lake Mead, the Hoover Dam, and the surrounding areas within just 10 minutes. This allows tourists who have visited for a short period to make the most of it. It's a lesser-known fact that the Hoover Dam has earned the reputation of being among the 7 Man-Made Wonders of the World. It's strongly advised to book the package in advance as some of them get sold out too fast.
All you need to book for one of the best Hoover Dam tour is a credit card that's valid. You're required to pay when you arrive at the place using the same credit card, cash, or a different card. Making your reservations in advance might get you some exciting discounts. Apart from that, you can also get a time slot and date as per your liking.
Conclusion
The Hoover Dam is less than an hour away from Las Vegas, which allows you to make an impromptu trip to the place. If you take off for the place in the morning, you'll be back to your Las Vegas hotel by the evening. It doesn't even take an entire day. People who are visiting for office work or business trips can always seek serenity by getting away from the chaos of the city for some time. And what could be a better place than the Hoover Dam to fill your heart with tranquility and happiness? So, plan a trip right now with much thinking.
Now that you're aware of all the amazing service you get from Vegas tours, we hope the next time you visit here; you'll trust us to make your tour full of fun and comfort. Also, 24 hours cancellation is available, and it's free if you cancel it within the given time period. Otherwise, you've to bear the cancellation charges if you cancel after that. If you have got further queries, contact us via mail at info@vegastours.com or reservations@vegastours.com or give us a call at 1-866-218-6877